Summer Scheme 2022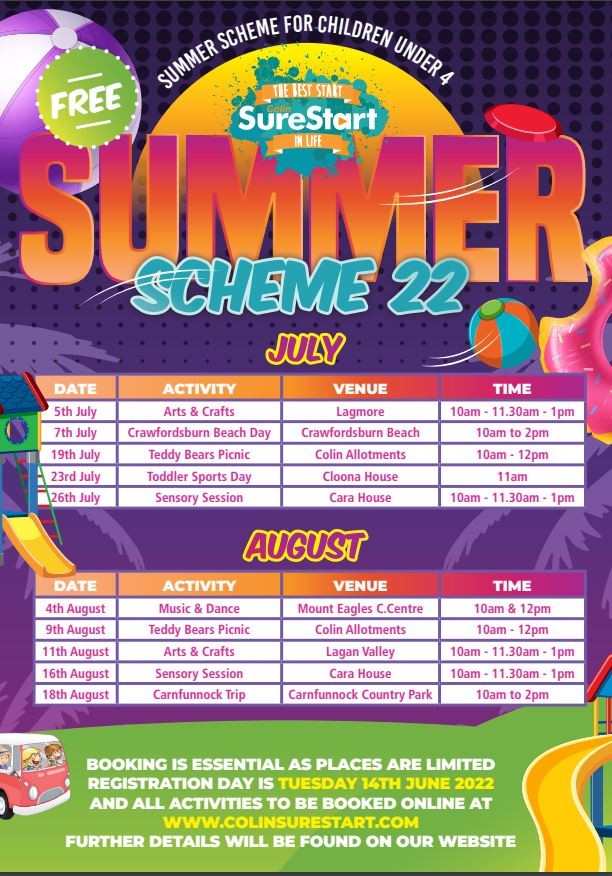 Colin Sure Start Summer Scheme
The Booking Facility is now LIVE. Follow the link at the bottom of this page to book.
Please read through the information here and if you experience any difficulties with the booking system please give us a ring on 90601417.
Woohoo - its back! This year we will be returning to our full schedule of summer activities after a few years with significant limitations due to Covid-19. Please read this through ahead of booking as hopefully it will give you all the information you need. We will be running 10 activities, events and trips over the summer months of July and August with lots of opportunities for families with children under 4 to have some great fun and play experiences with friends! We want to ensure as many families as possible can all get an opportunity to be involved.
Who can participate?
The Colin Sure Start summer activities are open to any family registered with Colin Sure Start. To book any event, you must be registered with Colin Sure Start, which means you live in the Colin area and have a child or children under 4. If you want to book on and this applies to you, but are not sure if you are registered, please give us a call on 90601417 and our team can assist you in getting registered if you are eligible. All of the events and activities are aimed at children under age 4. Parents or carers can bring older children to some of the events, provided they have at least one child under 4, and any older siblings are there to support and understand that the activities will be catering for younger children. (This does not include spaces on the Bus for trips where we can ONLY book children under 4 and their parents/carers)
Activities
The events will include a range of activities - sensory play, arts and crafts, physical activities, nature activities and trips too. The activities will aim to support all abilities and ages from 0-4. Parents or carers are responsible for their children at all times during the events so you attend with them and full participation is encouraged! Most activities (apart from trips) will be around 1 hour - 1.5 hours given the attention span of most wee ones, but there will be lots to do. A baby area will be set up at all events for mums/dads with newborns, and there will be toilets and changing facilities provided at all venues. The activities are spread across the months of July and August and in venues throughout the Colin area.
Booking
This year we are moving to an online booking system for the summer scheme which is new for us so please bear with us! In order to accommodate as many families as possible, and given the massive interest in these activities we have received in the past, we are asking parents/carers initially to limit their choices to 3 per family. Once you have picked your 3 choices, you will still be able to put your name on a 'reserve' list for other activities so in case there are cancellations we can offer these out to those on reserve. Please remember this is in place to try and make sure that everyone gets something - its not just a limit for the sake of it. Your understanding is appreciated on this. Some of the activities have 2 or 3 different start times to accommodate as many as possible, but it is very important that families stick to their allocated time slots due to capacity in some buildings/venues.
The booking facility will open on Tuesday, 14th June, 9 am right here on our Website on this page. If you are experiencing any issues with booking please contact us on 90601417.
Confirmation
Once you have booked on to an event successfully, an email will be sent to the address you provide to confirm your booking. Our staff will also contact you a few days in advance of any event you have booked on to by phone just to confirm everything and run through any details with you. If for any reason you are no longer able to attend an event that you have booked on, there is a link on the confirmation email to 'cancel your booking' - if we could ask that you please cancel if unable to attend as this will allow another family to take up the place. Many thanks
Trips
There are two trips organised as part of the summer scheme - one in July and one in August. We are putting on some busses for these for those who dont have access to transport. Families are welcome to make their own way in a car and meet us there if they wish. If you are booking on to a trip, please indicate if you need a space on the bus or if you are making your own way there. Unfortunately due to limited spaces on the busses, ONLY children under 4 and parents or carers can book on to the busses. Apologies for any inconvenience. One of the trips we will be providing lunch (BBQ) but the other one bringing a packed lunch is recommended, this will be indicated on the booking.
Covid-19 and Health and Safety
Wherever possible (and weather permitting) we are arranging activities and events outdoors or in the open air. Where activities or events are indoors, numbers will be limited in accordance with our Risk Assessment to reduce the risk of spread of Covid-19 and ventilation of the room will be facilitated. We would ask that if your child or anyone in your family is displaying symptoms of Covid-19, please do not attend the activity or event. All our activities are risk assessed and there will be a named first-aid staff member at each event. Please remember that your child or children remain your responsibility at all times during the activities or events. There will be a main staff member for each activity and their mobile number will be made available if you have any questions or issues on the day to contact.
What to bring
We will provide everything you need for the activities, and a small healthy snack of fruit will be provided as well as water on all events. Some of the events (one trip and the Teddy Bears Picnics) a lunch will be provided for children, but for most of the events it will just be the health snack. Please make our staff aware if you or any of your children have any food allergies. Things to remember: Sun cream, nappies & changing wipes, antihistamine or anything relating to allergies, water or drink for babies, (for Trips: sand toys, packed lunch, towels, books or activity for the bus journey)
Colin Sure Start, Unit 21, Dairy Farm Centre, Stewartstown Road, Dunmurry, Belfast, BT17 0 AW Telephone: 028 9060 1417
Charity No: NIC103284 | Company No: NI42091