Fathers, Grandfathers and Male Carer's Services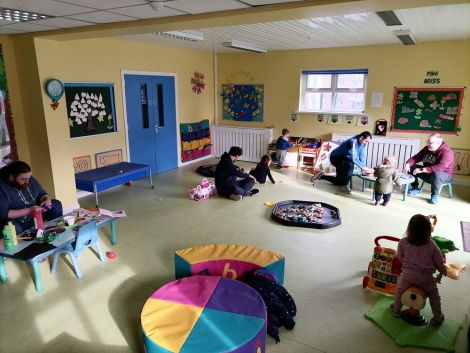 Are you aware that Colin Sure Start provides a dedicated fathers service?
As fathers, you have a special role to play in your children's life. When you are actively and responsively involved in your children's lives we know this has a positive impact:
Tend to perform better academically
Can help to Improve their mental health
Less likely to present with challenging behaviours
Have increased language and communication skills
Have higher self-esteem
Have better problem solving skills.
As a dad you will also benefit from being involved in children's lives
Stronger and healthier relationships with family members
Feel more able to manage everyday stresses and hassles
Feel increased security in other relationships
Feel more confident in other aspects of life.
Here at Colin Sure Start we work hard to provide fathers with the support they need to be able to spend quality time with their children. Our Fathers Worker, Antoine Ó Fionnagáin is on hand to work with fathers. There are also opportunities to meet other dads and spend time your children together. Our fathers service will support you to:
Develop life skills and further education and employment opportunities
Receive information and appropriate signposting
Health, nutrition and wellbeing advice and support
Information on child development
Promote play and social opportunities
Colin Sure Start provide programmes that dads and children can come along to including...
Dads and Kids Active- A 4 week physical activity programme, this may include going for walks, the local park or helping with the local environment.
Dads Digging Group - Up in the Colin Allotments we have a plot for growing plants and vegetables. Our dads group meets weekly on a Friday with their children to work on this plot and do outdoor, physical play activities that involve planting, growing and learning about the wildlife around us!
Dads Den- A 6 week programme packed full of fun activities, such as toys, games, outdoor play and arts and crafts
Dads Reading Corner- Encouraging dads to get involved in reading, our fathers worker provides support and materials to get more families enjoying a story together.
Fathers education programmes- Paediatric First Aid awareness courses, programmes which can help parents to understand child behaviour and management strategies, early childhood development and communication skills.
Dads Aquababes Baby Swim Programme – An evening swim programme over 5 sessions that develops coordination, muscle tone and confidence and bonding between dad and child.
Dads Cooking - A cooking group for dads that looks at preparing healthy family meals on a budget. All ingredients are provided.
Fathers Events
We hold a number of events throughout the year for all our parents and in particular – dads.
Fathers Day BBQ! Summer Schemes! Toddler groups! Family fun days!
If you are interested in any of these programmes please get in touch! Antoine works with Fathers, Grandfathers and Male carers - getting involved is really easy and children really benefit from having one on one time with their dads in the Early Years!
Contact Antoine on 02890601417 or 07407680436
Colin Sure Start, Unit 21, Dairy Farm Centre, Stewartstown Road, Dunmurry, Belfast, BT17 0 AW Telephone: 028 9060 1417
Charity No: NIC103284 | Company No: NI42091