Aims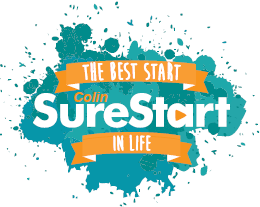 Colin Sure Start is a locally based programme working with parents and children under the age of four. Our main focus is to value and support all children aged 0-4 and their families by providing free services, activities and programmes that focus on early education, health, family support and play development.
Our vision is to reach out to families with children aged 0-4 years…laying foundations, creating opportunities and working in partnership to give every child the best possible start in life.
The aims of Sure Start are to complement the work of existing local services and provide young families with advice on where to go and who to speak to, if they have more specialised needs or problems.
The ongoing support that Sure Start provides can help to make sure that children flourish both at home and when they go to school.
Sure Start aims to improve the ability to learn, health and social development of the children that use its services.
The Sure Start programme is supported by a number of key principles:
To coordinate, streamline and add value to existing services for young children and their families in local communities
To involve parents
To avoid stigma
To ensure lasting support
To be sensitive to local families' needs
To promote the participation of all local families
Sure Start work is focused on six high outcomes to ensure children are:
Being healthy
Enjoying learning and achieving
Living in safety and with stability
Living in a society which respects their rights
Experiencing economic and environmental wellbeing
Contributing positively to community and society
Colin Sure Start broadly delivers two types of service in the local community; Early Years Services and Family Services. Within each of these areas we offer a diverse range of programmes, activities and support that families can avail of.
Please refer to our Services and Programmes and Activities pages for more detailed information on these services and all the programmes that we offer.
Check out Colin Sure Start in the local news from NVTV piece on our 15th Anniversary in 2017:
https://vimeo.com/246311901https://vimeo.com/246311901
And a piece from the Andersonstown News on our 20th Anniversary Event in 2022:
https://belfastmedia.com/celebrating-20-years-of-colin-sure-start
Colin Sure Start, Unit 21, Dairy Farm Centre, Stewartstown Road, Dunmurry, Belfast, BT17 0 AW Telephone: 028 9060 1417
Charity No: NIC103284 | Company No: NI42091